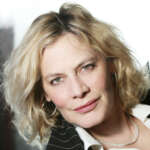 Deborah Levy
Deborah Levy is a playwright, novelist, and poet. She is the author of Hot Milk, which was released in March 2016, and five previous novels including Swimming Home (2011), which was shortlisted for the Man Booker prize. Her collection of short stories, Black Vodka (2013), was shortlisted for the BBC International Short Story Award and the Frank O'Connor International Short Story Award. She has written for the Royal Shakespeare Company and the BBC.
Interviews with Deborah Levy
Aristotle tells us that all politics starts in the family, and nowhere is that more obvious than in the infamously fraught relationship between mother and daughter. Here, the novelist, playwright and poet Deborah Levy chooses five books – or rather, four books and one film – that explore motherhood.