"We're doing philosophy now, and that means following the argument wherever it leads, like that time you chased a rabbit and ended up with your head stuck in a hole." —Anthony McGowan
How to Teach Philosophy to Your Dog got a special mention in Nigel Warburton's Best Philosophy Books of 2019.
Anthony McGowan's How to Teach Philosophy to Your Dog is a delightful, quirky book that deserves a wide readership and may well get it. McGowan is a skilful writer who has previously written novels for children and adults. He explains some key philosophical ideas through a series of dialogues with Monty his Maltese terrier. On their walks around North London, he teaches his dog philosophy as the title suggests. Monty's presumed contributions are in italics. That shouldn't really succeed for 300 pages, but it somehow does.
After a jaunty overview of the place of dogs in the history of philosophy (including, of course, a discussion of the Cynics of Ancient Greece, who were likened to dogs, not least because they seemed to have invented dogging), McGowan and Monty start to discuss philosophy through the 'Good Dog, Bad Dog' problem while walking around Hampstead Heath. Monty adopts an emotivist position: "You say 'good dog' when you like what I do, and you say 'bad dog' when you don't like it, and that's all there is to it." (p.19) McGowan's response is 'Good dog' (because Monty has put his paw on the heart of the problem). And so the conversation goes on takes them into areas of subjectivism, relativism and beyond. On later walks they address Kantian moral philosophy and Utilitarianism, wrestle with the problem of free will, investigate ontology and epistemology via the issue what the white stuff in birds poo essentially is, and even debate scientific method. At the end of the book God and the meaning of life make an appearance as Monty waits to see the vet, perhaps for the last time.
Like Jostein Gaarder's runaway 1991 bestseller, Sophie's World, McGowan has found a way to mix an overview of some key philosophical problems with a story line.  In How To Teach Philosophy To Your Dog, though, rather than a whimsical magical story to keep us reading on, we have the ongoing relationship between the self-deprecatory McGowan and his somewhat laconic and often distracted dog to entertain us along the way. The philosophical sections in McGowan's book, however, are far superior to those in Gaarder's. A useful feature of McGowan's book too are the annotated suggestions for further reading. This is a book designed to whet your appetite for deeper reading in philosophy. I think it will succeed in this for many readers.
I could quibble that McGowan is unfairly harsh on Nietzsche, and takes Feyerabend's wilder claims about science too seriously, but these are minor points. Generally he is very reliable on the philosophy and handles the dialogues with a light touch. This, then, is a witty, enjoyable book that gently introduces some serious philosophy, with plenty of smiles along the way.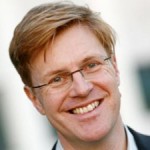 Nigel Warburton