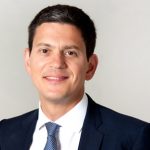 David Miliband
David Miliband is President and CEO of the International Rescue Committee (IRC). From 2007 to 2010, he was the UK's Secretary of State for Foreign Affairs.
Interviews with David Miliband
One out of every 122 people in the world today is displaced by conflict. David Miliband, president of the IRC, chooses five books to help us think constructively about refugees and the causes of the current crisis.