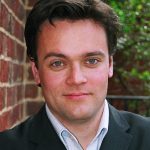 James Twining
James Twining began his career in the business world but recently switched to thriller writing and has been dubbed 'a worthy successor to Forsyth, Follett and Higgins'. His first book, The Double Edge, came out in 2003, and his latest, The Geneva Deception, has just been published in the UK. All his books are set in the art world and feature historical events and genuine artefacts.
Interviews with James Twining
Best-selling author says the elements you need to write a perfect thriller are a brilliant central character, some link to reality, and an inanimate object around which the human story revolves.