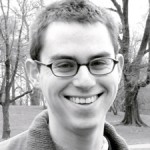 Joshua Foer
Joshua Foer, the 2006 USA Memory Champion, is the author of New York Times bestseller Moonwalking with Einstein. He is a graduate of Yale and lives in New Haven where he works as a freelance journalist. Foer's work has appeared in Slate, Esquire, National Geographic and The New York Times. He co-founded Atlas Obscura, an online compendium of the world's wonders and curiosities.
Books by Joshua Foer
"I start my class with the memory unit and love this book. Josh Foer's story is a perfect hook for students and makes psychology accessible to them. While they may not be training for memory championships in the near future, many feel like they are preparing for a mini version while tackling their class load." Read more...
The Best Psychology Books for Teens
Interviews with Joshua Foer
The best-selling author and 2006 US Memory Champion, Joshua Foer, picks five unforgettable books about the art of remembering.
Interviews where books by Joshua Foer were recommended
Three award-winning US high school psychology teachers—authors of the website Books for Psychology Class—share their recommendations of the best psychology books for teenagers, students and their teachers—and reflect on why storytelling is a key aspect of the art of teaching.
The Pulitzer prize-winning writer says science is too important to be left for the scientists, and recommends books that show how much it matters in our daily lives