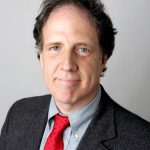 Larry Rohter
Larry Rohter served as a correspondent in Rio de Janeiro for 14 years for Newsweek and later as The New York Times bureau chief. He is widely considered a top expert on Brazil. Currently he is a culture reporter for The New York Times and a commentator for Brazilian media. He lives in Hoboken, NJ.
Interviews with Larry Rohter
The former Rio de Janeiro bureau chief for the New York Times, Larry Rohter, discusses five books that explore the strain of tragedy lurking just beneath Brazil's 'happy' image.