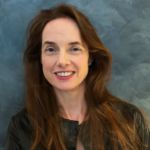 Margaret Morris
​Margaret Morris is a clinical psychologist, researcher and inventor of technologies to support health, emotional wellbeing and interpersonal connectedness. She teaches in Human Centered Design and Engineering at the University of Washington.
Interviews with Margaret Morris
Many people are now worried about the impact of tech devices and social media on our brains—and believe they could be harmful to our psychological wellbeing. Psychologist Margaret Morris, author of Left to Our Own Devices, argues for a more nuanced approach and talks us through the books that shaped her own approach to technology.