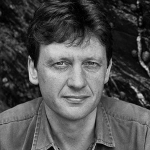 Philip Marsden
Philip Marsden is the author of seven travel books and dramatic histories, including "The Bronski House" and most recently "The Barefoot Emperor". His first novel was "The Main Cages", which adopts the only template for a seagoing romance available since "Moby Dick": man meets watery nemesis.
Interviews with Philip Marsden
The travel writer casts his net over books about the sea and comes up with a haul including Moby Dick and a naval history of Britain.