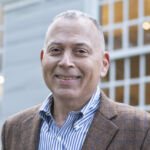 Ralph Eubanks
W. Ralph Eubanks is a University of Mississippi Professor, Radcliffe Institute Fellow, and author of three honored books about his home state. Ever Is a Long Time: A Journey Into Mississippi's Dark Past was named one of the best books of its year and A Place Like Mississippi is the perfect visitors' guide.
Books by Ralph Eubanks
When I was asked to write the book, my editor Will McKay said, I think this is a book that should begin in the Delta. My reaction was: absolutely not. The myth is that all of Mississippi literature springs out of the Delta. To dispel that myth, I began the book on the Gulf Coast with Jesmyn Ward and Natasha Trethewey, two African American women writing difficult things about the South. Then I move on through the state, using the geographic regions of the state to tell the story of its literature.
Interviews with Ralph Eubanks
Outsiders see Mississippi as a site of slavery and indigenous removal; but to write about Mississippi is to write about the United States as a whole—and its original sins, says Prof Ralph Eubanks, as he recommends five of the best books on Mississippi, the birthplace of the blues.