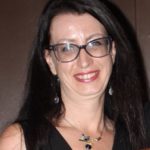 Sherryl Vint
Sherryl Vint is Professor of Media & Cultural Studies and of English at the University of California, Riverside. She is the author of Bodies of Tomorrow, Animal Alterity, and Science Fiction: A Guide for the Perplexed, coauthor of the Routledge Concise History of Science Fiction, and coeditor of The Routledge Companion to Science Fiction.
Interviews with Sherryl Vint
Ursula Le Guin's most groundbreaking books are considered landmark texts in speculative fiction, exploring themes of colonisation, gender, nationalism and environmentalism through allegorical means. Here, the science fiction scholar Sherryl Vint selects five of the best books by Ursula Le Guin and examines her legacy as one of the great American writers.