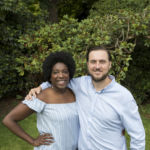 Tineka Smith and Alex Court
Tineka Smith is a writer, diversity advocate and founder of the diverse greetings-card company, Huetribe. She is also an expert communications consultant to the United Nations, specializing in areas such as environment, climate change, and human rights.
Alex Court is a writer and digital producer exploring the ups and downs of life in an inter-racial couple. He has worked as a journalist for international newsrooms like CNN, BBC and Al Jazeera and advocated for refugees as part of the communications team at the UN Refugee Agency, UNHCR.
Books by Tineka Smith and Alex Court