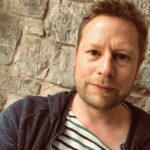 Tom McLaughlin
Tom McLaughlin is an author illustrator from Devon. After graduating from Falmouth College of Art he worked from 10 years as a political cartoonist. He started in the world of children's publishing by illustrating other people's books before turning his hand to writing. He has written and illustrated for Bloomsbury, Puffin, Scholastic, OUP, Walker to name but a few. His books has been nominated for countless awards and have been translated into over 10 different languages.
Interviews with Tom McLaughlin
Laughing out loud while reading is such a particular, life-affirming joy—a joy especially suited to young readers. Author and illustrator Tom McLaughlin recommends books that have left him in helpless fits of giggles.