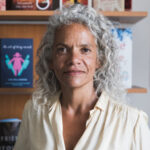 Catherine Johnson
Catherine Johnson is an award-wining writer, including of historical fiction for children and young adults.
Books by Catherine Johnson
Born in West Africa in 1745, Olaudah Equiano was kidnapped at the age of 11 and enslaved in America and the Caribbean. This book focuses on the early part of his life, when he worked on ships, bought his freedom and fought in wars. It is a dyslexia-friendly retelling of his fascinating life story by a brilliant author of historical fiction for teens. Confident readers will hopefully go on to read Equiano's autobiography, which became a bestseller in his own lifetime.
Ages 9-13
Interviews with Catherine Johnson
There is some fabulous historical fiction out there for 8-12 year olds, some of it old, some of it new. British novelist Catherine Johnson, author of a number of historical novels for kids and young adults, recommends some of the best—from short stories to epics and from straight historical novels to those with a strong dose of fantasy and magic.
Interviews where books by Catherine Johnson were recommended
Historical novelist K J Whittaker takes us on a time-travelling adventure as she selects five brilliant historical novels for teens.
Books by Catherine Johnson