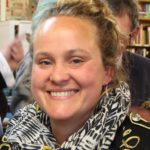 KJ Whittaker
K J Whittaker is the Carnegie-nominated author of six YA novels published by Walker Books under the name Katy Moran. Katy has a BA in English Language and Literature, an MA in Novel Writing and has been part of the book trade for two decades, working as bookseller, editor, talent scout reader, creative writing teacher and author – sometimes all at the same time! She works part-time in a bookshop and lives in Shropshire with her family.
Interviews with KJ Whittaker
Historical novelist K J Whittaker takes us on a time-travelling adventure as she selects five brilliant historical novels for teens.