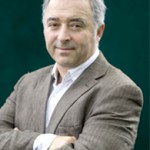 Frank Cottrell Boyce
Frank Cottrell Boyce is a screenwriter and the award-winning author of several novels for children. After writing for Coronation Street and Brookside, he turned to feature films, and has worked with diverse directors such as Michael Winterbottom, Danny Boyle and Alex Cox. He wrote the screenplays for 24 Hour Party People, A Cock and Bull Story, and Welcome to Sarajevo.
Books by Frank Cottrell Boyce
Art crime is always a fun topic, because the prospect of making off with just one item which is not only beautiful but also worth $25 million is so tempting. This is a children's book about some entirely opportunistic and haphazard plans to steal van Gogh's "Sunflowers" but utterly charming for adults too. It was recommended by historian Janina Ramirez and is really, really funny.