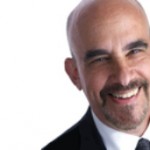 Steve Lance
Steve Lance, author of The Little Blue Book of Advertising, has been working in advertising for more than 30 years. He has worked as creative director at NBC, creative director of the entertainment division at Della Femina, Travisano & Partners, and set up his own company, PS Insights. He has won a number of prestigious awards including an Emmy award with Ritchie Kahn for the NBC news campaign 'Proud as a Peacock', and a Platinum Aurora award for the rebranding of Accenture.
Interviews with Steve Lance
The author and Emmy award-winning advertising exec discusses the changing face of the advertising world. He argues that the digital revolution has been mirrored before in the change from radio to tv advertising.