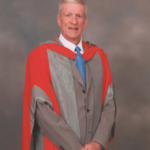 A G Hopkins
A G Hopkins is Emeritus Smuts Professor of Commonwealth History at the University of Cambridge and former Walter Prescott Webb Chair in History at the University of Texas at Austin. His books include Global History: Interactions between the Universal and the Local; and American Empire: A Global History. He lives in Cambridge, England.
Interviews with A G Hopkins
When George W Bush declared that America "has never been an empire," he elided a half century of colonial rule over its overseas dependencies. But American expansionism has manifested in other forms too, says A G Hopkins, imperial historian and author of a panoramic new work of American history.