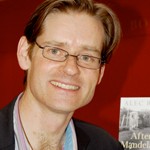 Alec Russell
Alec Russell is World News Editor at the FT, and former Johannesburg bureau chief. He was nominated for the 2008 Pulitzer Prize and Britain's Foreign Correspondent of the Year for his reporting from South Africa in 2007.
Books by Alec Russell
Alec Russell describes that post-Mandela period of disillusionment with rich anecdote, with very intelligent and consistently measured analysis
In January 1990, Alec Russell had the offer of a free flight to Bucharest. The plane stopped 700 miles short but he made it eventually and soon afterwards found himself covering the Romanion Revolution for the "Daily Telegraph". During the next three years, the author saw the Gulf War from Turkey, the Kurdish uprisings, the coup in the Soviet Union from St Petersburg and the endless upheavals in the Balkans. His reports from the city of Dubrovnik won him a 1991 UK Press Award.
This text is a portrait of a continent through the author's encounters with African leaders from Zaire to South Africa. Russell recounts meetings with each in an attempt to answer questions of Africa's future: can a new generation of leaders change the future or is Africa doomed to further turmoil?
Interviews with Alec Russell
World News Editor at the FT and Pulitzer Prize nominee discusses the struggles and triumphs of South Africa – the colonial scramble, the end of apartheid, Mbeki, Mandela and rugby, ANC corruption and more
Interviews where books by Alec Russell were recommended
Nelson Mandela was a most unusual and unusually astute leader, says journalist and author of Playing the Enemy, John Carlin. He chooses the best books to understand Nelson Mandela, who used forgiveness as a political tool, and South Africa, the country he brought peacefully out of apartheid.