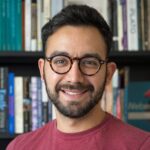 David Peña-Guzmán
David M. Peña-Guzmán is associate professor of humanities at San Francisco State University. He specialises in animal studies, theories of consciousness, the history and philosophy of science, and contemporary European philosophy. He is coauthor of Chimpanzee Rights: The Philosophers' Brief and cohost of the popular Overthink podcast.
Books by David Peña-Guzmán
Interviews with David Peña-Guzmán
The more we learn about the minds of other species, the more we are forced to question any assumptions that might previously have been made about their inner lives. Here, the philosopher David Peña-Guzmán talks us through the profound questions thrown up by research into animal cognition, perception and emotion, as he recommends five of the best books on animal consciousness.
Books by David Peña-Guzmán