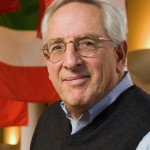 Norman Naimark
Norman Naimark is an American historian and author who specialises in modern Eastern European history, genocide and ethnic cleansing. He is a professor in the history department at Stanford University, and a senior fellow at the Hoover Institution. Naimark has been awarded the Officers Cross of the Order of Merit by Germany. His most recent book is Stalin's Genocides
Books by Norman Naimark
A short book (less than 200 pages) on Stalin's crimes by American historian and genocide expert Norman Naimark. As he points out, there is considerable disagreement about how many were killed as a result of Stalin's policies and actions and a lot depends on how ones defines 'mass killing.' Naimark comes down on a figure of 15 to 20 million dead as a result of Stalin's policies from 1928 to 1953.
Interviews with Norman Naimark
Genocide isn't the preserve of fanatics and racist thugs – it's part of human nature, says Stanford historian Norman Naimark. He tells us how genocide happens, who denies it, where it could return, and the best books to read about it.