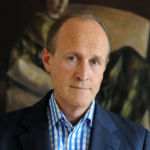 Peter Bazalgette
Peter Bazalgette is chair of the judging panel of the 2017 Baillie Gifford Prize for Non-Fiction. He is Chairman of ITV and is currently leading an independent review into the UK's creative industries as part of the Government's new Industrial Strategy. Peter is also Chair of HM Government's Holocaust Memorial Foundation and serves on the Advisory Boards of BBH and YouGov. From 2013 until 2017 he was Chair of Arts Council England.
Interviews with Peter Bazalgette
It's hard to choose the very best nonfiction books of 2017, but the Baillie Gifford Prize aims to do just that. The chair of this year's judging panel, Peter Bazalgette, talks us through the six fabulous books that made the shortlist.