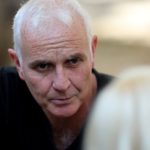 Peter Salmon
Peter Salmon is an Australian writer living in then UK. His first novel The Coffee Story was a New Statesman book of the year. His biography of Jacques Derrida, An Event Perhaps, was described Prospect magazine as 'Brilliant … one of the clearest introductions to 20th-century continental philosophy available – a scintillating account of Derrida's life and thought' and 'Thrilling' in the Times.
Interviews with Peter Salmon
For the general reader deconstruction has a bad reputation. It is seen as over-complicating, arcane and wilfully obscure—but as its founding genius Jacques Derrida pointed out, "If things were simple, word would have gotten around." Here Peter Salmon, author of an excellent new biography of Derrida, chooses five books to get you started on the text and everything inside it.