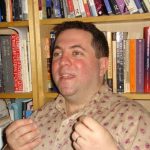 Robert Eaglestone
Robert Eaglestone is Professor of Contemporary Literature and Thought at Royal Holloway, University of London. His research interests are in contemporary literature and literary theory, contemporary philosophy, and on Holocaust and genocide studies. He is the author of Contemporary Fiction: A Very Short Introduction and The Holocaust and the Postmodern, both published by Oxford University Press, as well as Literature: Why it Matters, The Routledge Companion to Twenty-First Century Literary Fiction, and Brexit and Literature.
Books by Robert Eaglestone
Interviews with Robert Eaglestone
The novel is no longer the king of the narrative arts, says the writer and academic Robert Eaglestone. Yet literature has never been more interesting. Here he discusses five excellent novels that exemplify current trends in contemporary fiction.
Books by Robert Eaglestone