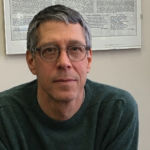 Steven Nadler
Steven Nadler is William H. Hay II Professor of Philosophy, Evjue-Bascom Professor in Humanities and Weinstein-Bascom Professor of Jewish Studies at the University of Wisconsin-Madison. His research focuses on 17th century philosophy and he has written extensively on Descartes, Spinoza and Leibniz. His other focus is medieval and early modern Jewish philosophy. You can see all the books he's written here. If you're new to 17th century philosophy, we highly recommend his comic book, Heretics!, illustrated by his son, Ben Nadler.
Interviews with Steven Nadler
In 1656 Baruch Spinoza was thrown out by Amsterdam's Portuguese-Jewish congregation for 'abominable heresies' and 'monstrous deeds', ensuring he would be forever remembered as a radical thinker. Here Steven Nadler, a professor at the University of Wisconsin-Madison and author of a number of books on Spinoza, talks us through the life and work of the 17th century philosopher whose worldview remains, in many ways, remarkably modern.