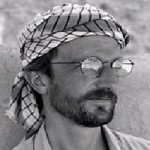 Tim Mackintosh-Smith
Tim Mackintosh-Smith is an Arabist, traveller, writer and lecturer. He studied at Oxford University and lives in San'a, the Yemeni capital. He is one of the foremost scholars of 14th-century Moroccan traveller, Ibn Battutah, and in 2011 was named by Newsweek as one of the finest twelve travel writers of the last hundred years.
Books by Tim Mackintosh-Smith
Interviews with Tim Mackintosh-Smith
Author and Arabist Tim Mackintosh-Smith tells us about the rich tradition in Islam of travelling to gain knowledge, and directs us towards some of those, both Western and Arab, who've inspired with their tales of life on the road.
Interviews where books by Tim Mackintosh-Smith were recommended
The Professor of Postcolonial Studies at City University, London, talks to us about Islamic travel books. Explains how travel should be both a physical and a mental exercise focussed on immersing oneself in local culture
Princeton professor Bernard Haykel's fascinating selection of books paints a worrying picture of a country at odds with the cultural riches of its past. With internal conflicts and poor governance, Al Qaeda is the least of its problems.
Books by Tim Mackintosh-Smith