Mythos by Stephen Fry is a humorous retelling of the Greek myths—if that seems possible given all the atrocities constantly being committed by the the gods, goddesses, and titans. It's a really great book for getting on top of not only the Greek myths, but also the way the names of the gods/goddesses etc. and Ancient Greek words are intertwined into the modern English language. We highly recommend the audiobook in particular, narrated by Stephen Fry himself, who is a talented and funny actor.
Mythos is a retelling of the Greek myths by the brilliant British actor Stephen Fry and one of its joys is being able to listen to it as an audiobook, read aloud by Stephen Fry. Greek myths have had such a profound impact on our language and literature that it's a period of 'history' that it's very good to know about. And in Mythos Stephen Fry does tell the Greek myths very much as a history, with different epochs, first the Titans, then the Gods, then humans. (Twice, the first lot of humans get lost in a flood so a new type has to be propagated). As he points out, the Greek myths don't always fit together chronologically, but in his telling, it seems like they do and together make a coherent origin myth and worldview.
But what really makes the book wonderful is the stories and Fry's enthusiasm for them. I first came across Stephen Fry many moons ago as a comic actor in the Blackadder series, and while he has obviously gone on to do more serious stuff, he is still very, very funny. He tells the stories that are our Greek myths in such a light way, that even children will listen along happily, and ask for the next episode. He adopts different accents and voices, and, as the Guardian review of Mythos puts it, the myths "sometimes appear to be set in North London." (In Heroes, the sequel to Mythos, the inhabitants of Crete appear to have Scottish accents, much to my children's delight.) In fact, after listening to Mythos one time my children (aged 12, 11 and 10) insisted on listening to it again. In short, I am writing this review halfway through my second 15 hour cycle of Mythos-listening.
One of the things I particularly enjoy about Mythos as an adult is Stephen Fry's frequent reminders of, and delight in, the etymology of words. Even if you have watched the Dad in My Big Fat Greek Wedding hold forth on the subject, it's still easy to forget how ubiquitous Greek words are in English, and how useful knowing a bit about the etymology can be for understanding how our ways of thinking about things has evolved. He does this constantly in the book. So we'll get to the bit about Thanatos, or death.  Then Fry will tell us, "Thanatos, Death himself, gives us the word 'euthanasia', good death." There was one time I wasn't 100% sure he was right about the origin of the word (typhoon, which I thought came from Chinese and not Ancient Greek), but who knows?
There were some myths I didn't know at all. Others, like Cupid and Psyche, I had semi-forgotten, and listening to it again reminded me of how much I enjoyed that story when I read it as a teenager at school (in Latin class) and how erotic the story seemed at an all girls' boarding school with zero chance of setting eyes on someone of the opposite sex. But even with stories that have been told many times, there were nice surprises. For instance, as it turns out, Pandora never had a box, but an earthenware jar. The whole box concept was a translation error made by the Dutch scholar Erasmus in the 16th century.
I love myths and stories from across the millennia as a way of seeing in what ways we are different from our ancestors and in what ways we have stayed the same. One thing I will say about Greek myths: everything always seems to end badly and part of the emotional experience is always hoping they won't, that for once there will be a happy ending. There hardly ever is. But maybe that is the human condition.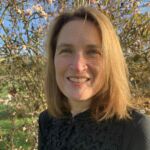 Sophie Roell, Five Books Editor