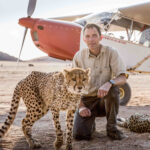 Alan Wilson
Alan Wilson is Professor of Locomotor Biomechanics at the Structure and Motion Lab, Royal Veterinary College, University of London. He has a PhD on tendon injury mechanisms, and was elected a Fellow of the Royal Society in 2020.
Interviews with Alan Wilson
The Royal Society Young People's Book Prize celebrates books that stimulate children's curiosity and enthusiasm to explore, innovate and debate. Alan Wilson, Chair of this year's judging panel, talks us through the six outstanding science books for kids that made the 2022 shortlist.