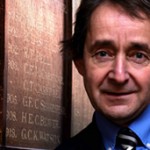 Anthony Seldon
Anthony Seldon is a political historian and commentator on British political leadership as well as on education and contemporary Britain. He is also Vice-Chancellor of the University of Buckingham.
Interviews with Anthony Seldon
It's their frailty that makes politicians such interesting characters, says Tony Blair's biographer Anthony Seldon. He tells us about the art of political biography and the writers who've best captured leaders such as Churchill and Thatcher
The contemporary historian and educationalist Antony Seldon discusses his selection of books on how to be happy.