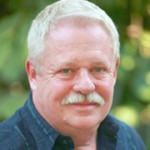 Armistead Maupin
Armistead Maupin is the author of many novels, mostly set in San Francisco. His bestselling serial novel Tales of the City was made into a popular mini series for PBS. In 2007, he received the inaugural Barbary Coast Award, which honours writers who have made the greatest contributions to Bay Area literature. His memoir, Logical Family, appeared in 2017.
Books by Armistead Maupin
Interviews with Armistead Maupin
The author of the Tales of the City novel series, Armistead Maupin, tells us about San Francisco's spirit of place, and the books that best capture the city's sense of possibility and noirish feel. He recommends the best novels set in San Francisco.
Interviews where books by Armistead Maupin were recommended
Queer readers have had to transpose themselves into heteronormative stories for most of their lives, says the comedian and writer Rosie Wilby. That's one of the reasons why straight, cis- readers should make time to read books from the lesbian, gay, bisexual, trans, queer and intersex community. Here she highlights five landmark books by LGBTQI writers that everyone should read.
Books by Armistead Maupin