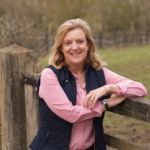 Charlotte Smith
Charlotte Smith is a journalist, television presenter and conference host. She has been presenting programmes about rural Britain on TV and radio for more than two decades. She is one of the main presenters of Radio 4's Farming Today and a regular on Countryfile on BBC 1. As the child of librarians, Charlotte is a lifelong book lover, and is rarely happier than when  in the quiet carriage of a train with no phone or wifi connection, and a good book on the go. Charlotte is the chair of the 2020 Wainwright Prize for Nature Writing's new Global Conservation Prize.
Interviews with Charlotte Smith
Many of us are increasingly alarmed at the damage human beings have done—and continue to do—to the natural world and would love to be better informed about what we need to do to protect our precious environment. Fortunately, every year, the Wainwright Prize picks out the best writing on global conservation—books that are not only informative but highly readable. Here, British journalist Charlotte Smith, chair of the judging panel, talks us through the books that made the 2021 shortlist and why it's worth reading all of them.
Conservation and the battle against climate change are two of the most pressing issues of our age. But books on the subject have to be readable and enjoyable too, says Charlotte Smith – BBC presenter and judge for the 2020 Wainwright Prize for books on global conservation. Here she highlights the six shortlisted titles that will enchant and inspire you.