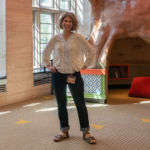 Dana Sheridan
Dana Sheridan is the Outreach Coordinator at the Cotsen Children's Library of Princeton University. With a Ph.D. in Educational Psychology from the University of Virginia, Dana Sheridan joined Princeton University Library in 2006. Her academic career focused on how children learn in informal, out-of-school environments, and her professional passion has been the design of dynamic hands-on programs for children. She has designed programs for patients at UVa's Children's Hospital, developed tours for the Albert and Shirley Special Collections Library and coordinated programs at the Virginia Discovery Museum.
Interviews with Dana Sheridan
What should you read with your kids on Thanksgiving? Dana Sheridan of Princeton University Library's Cotsen Children's Library recommends five children's books with themes of love, gratitude, belonging and sharing with one another—what the holiday is all about.