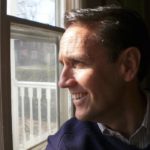 D.G. Hart
is a native of suburban Philadelphia and teaches history at Hillsdale College.  He trained in U.S. history at Johns Hopkins University and is the author and editor of twenty books about religion, politics, and higher education in America.  He lives with his wife, Ann, and three cats in Hillsdale, Michigan.
Interviews with D.G. Hart
The Founding Fathers of the United States were a remarkable bunch of people, but Benjamin Franklin might have been the most remarkable of them all. Coming from humble stock, he became a businessman, scientist, diplomat and politician—a giant of the Enlightenment. Historian D.G. Hart sheds some light on his character and background and puts him in his broader social and political context.