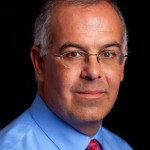 David Brooks
David Brooks is a columnist for the New York Times who writes about politics and American culture. He joined the Weekly Standard at its inception in 1995, and prior to that was op-ed editor at the Wall Street Journal.
Interviews with David Brooks
It's hard to understand many things about the world around us without a knowledge of the unconscious workings of the brain, argues the New York Times columnist David Brooks. He chooses five accessible books that'll get you into neuroscience as well.
Interviews where books by David Brooks were recommended
The self-help genre is sometimes dismissed as simplistic or over-earnest. But, at their best, self-help books offer powerful insights into how to live. Oliver Burkeman, the Guardian columnist and author of The Antidote, recommends five of the best self-help books published in 2019.