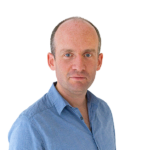 Oliver Burkeman
Oliver Burkeman is the author of The Antidote: Happiness for People Who Can't Stand Positive Thinking (2012) and Help! How to Become Slightly Happier and Get a Bit More Done (2011). His latest book, Four Thousand Weeks: Time Management for Mortals (2021), is about making the most of our radically finite lives in a world of impossible demands and relentless distraction. You can subscribe to his twice-monthly email, The Imperfectionist, at oliverburkeman.com.
Books by Oliver Burkeman
Oliver Burkeman, the Guardian self-help columnist and author of the The Antidote, draws on the insights of ancient and contemporary philosophers and spiritual teachers in this entertaining and gently profound book that calls on the reader to accept that life is inherently short, and that we must learn to prioritise what is most important to us.
Oliver Burkeman previously spoke to Five Books about the best self-help books of 2020 and 2019.
"He describes Stoicism, the philosophy of accepting current reality so that you can move past it. That is such a key, key element. It's a real key element of getting things done, in a way, because a lot of people resist what I teach because they don't want to look at all the commitments that they've made, face up to it." Read more...
The best books on Productivity
David Allen, Entrepreneurs & Business People