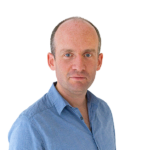 Oliver Burkeman
Oliver Burkeman is the author of The Antidote: Happiness for People Who Can't Stand Positive Thinking (2012) and Help! How to Become Slightly Happier and Get a Bit More Done (2011). His latest book, Four Thousand Weeks: Time Management for Mortals (2021), is about making the most of our radically finite lives in a world of impossible demands and relentless distraction. You can subscribe to his twice-monthly email, The Imperfectionist, at oliverburkeman.com.
Books by Oliver Burkeman
***🏆  A Five Books Book of the Year ***
"It's a book about what we do with our limited time on Earth, how we decide to prioritise and proportion our time. To that extent it's a book of ethics in the face of inevitable death. It's a combination of sometimes witty, sometimes terrifying exploration of the human condition, and at the same time an antidote to those time management books that tell you how you can maximise your productivity, taking on more and more tasks and completing them efficiently." Read more...
The Best Philosophy Books of 2021
Nigel Warburton, Philosopher
"He describes Stoicism, the philosophy of accepting current reality so that you can move past it. That is such a key, key element. It's a real key element of getting things done, in a way, because a lot of people resist what I teach because they don't want to look at all the commitments that they've made, face up to it." Read more...
The best books on Productivity
David Allen, Entrepreneurs & Business People
Interviews with Oliver Burkeman
Interviews where books by Oliver Burkeman were recommended
If you feel like you lose whole days to procrastination or indecision—or simply have too much to do!—you probably want advice on how improve your productivity. We spoke to David Allen, creator of the perennial bestseller Getting Things Done, about the best books on the subject: why we waste time, and what we can change to be more productive.
Lockdowns have forced many of us to pause and consider the way we are living our lives, says the podcaster and bestselling author Emma Gannon. Here she highlights five of the best self help books published in 2021, with a special focus on creativity and setting better boundaries to safeguard our time and energy.
Nigel Warburton—the philosopher, broadcaster and creator of the popular Philosophy Bites podcast—selects five of the best public philosophy books published in 2021, including a defence of righteous rage, an examination of the concept of 'time management,' and an intellectual biography of the political philosopher and Holocaust survivor Hannah Arendt.