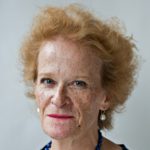 Fiammetta Rocco
Fiammetta Rocco, culture correspondent at The Economist, was the books and arts editor at that magazine for 15 years from 2003 to 2018. She is also culture editor of The Economist's bi-monthly magazine, 1843. She chaired the Baillie Gifford Prize judging panel in 2018 and is the administrator of the Man Booker International Prize for fiction. Her book, The Miraculous Fever-Tree: Malaria and the Quest for a Cure that Changed the World, was published in 2003.
Interviews with Fiammetta Rocco
It's a difficult task: to identify the very best nonfiction books of the year. But the Baillie Gifford Prize aims to do just that. The chair of the prize's 2018 judging panel Fiammetta Rocco talks to us about the six fascinating titles that made the shortlist.