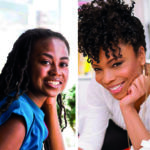 Jamia Wilson and Andrea Pippins
Jamia Wilson is executive director and publisher of Feminist Press at City University of New York; former executive director of Women, Action, and the Media; and former vice president of programs at The Women's Media Center. Jamia has been a powerful force in the social justice movement for nearly a decade.
Andrea Pippins is an artist, illustrator and designer whose work has been featured in O: The Oprah Magazine, Family Circle, The Huffington Post, Bustle and others.
Together they have produced the illustrated book Young, Gifted & Black (Wide-Eyed Editions, Spring 2018).