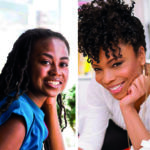 Jamia Wilson and Andrea Pippins
Jamia Wilson is executive director and publisher of Feminist Press at City University of New York; former executive director of Women, Action, and the Media; and former vice president of programs at The Women's Media Center. Jamia has been a powerful force in the social justice movement for nearly a decade.
Andrea Pippins is an artist, illustrator and designer whose work has been featured in O: The Oprah Magazine, Family Circle, The Huffington Post, Bustle and others.
Together they have produced the illustrated book Young, Gifted & Black (Wide-Eyed Editions, Spring 2018).
Interviews with Jamia Wilson and Andrea Pippins
Jamia Wilson and Andrea Pippins discuss books that that tell the stories of some of the greatest black icons in history – and explain why reading books that celebrate these extraordinary lives can be transformational for all children.