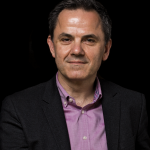 John Tasioulas
John Tasioulas is the Yeoh Professor of Politics, Philosophy & Law and the inaugural director of the Yeoh Tiong Lay Centre for Politics, Philosophy & Law at the Dickson Poon School of Law, King's College London. He has published extensively in moral, legal, and political philosophy, with a focus on philosophical issues in crime and punishment, human rights, and international law.
Interviews with John Tasioulas
What are human rights? Are they reducible to the rights enshrined in law or do they somehow objectively exist? Philosopher John Tasioulas picks the best five books on human rights.