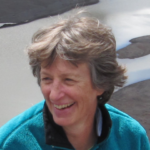 Katharine Cashman
Katharine Cashman is Professor of Volcanology at the University of Bristol, UK, and former Philip H. Knight Professor of Natural Science at the University of Oregon, USA. She has been awarded the Murchison Medal by the Geological Society of London and holds a Royal Society Wolfson Research Merit Award.
Interviews with Katharine Cashman
In selecting the best science books for children, the judges of the Royal Society Young People's Book Prize identify books that are scientifically accurate as well as accessible and engaging. Katharine Cashman, Professor of Volcanology at Bristol University and Chair of this year's judging panel, talks us through the six wonderful books that made the 2021 shortlist.