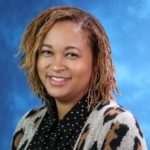 Krishna Grady
Krishna Grady is the chair of the 2020 Newbery Medal Selection Committee. She is a librarian at Darien Library in Connecticut, USA.
Interviews with Krishna Grady
After reading hundreds of newly published books and asking children and adults alike for their input, the winners of the 2020 Newbery Medal and Honors have been chosen. Librarian and chair of the selection committee Krishna Grady introduces us to the best new children's books that will surprise, delight and hold your kid's attention—including the first graphic novel to ever win the award.