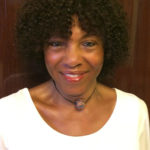 Margaret Busby
Margaret Busby was born in Ghana and educated in the UK. She co-founded the publisher Allison and Busby in 1967. An independent editor, writer, broadcaster and critic since the 1990s, Busby has judged numerous literary prizes, including the Caine Prize, the Commonwealth Book Prize, the Orange Award for New Writers and the Independent Foreign Fiction Prize. Her writing for the stage includes Sankofa (1999), Yaa Asantewaa – Warrior Queen (2001) and An African Cargo (2007). Her pioneering anthology Daughters of Africa brought together writing by more than 200 women of African descent. Her follow-up, New Daughters of Africa was published to great acclaim in 2019. Busby has been awarded the Royal Society of Literature's prestigious Benson Medal, and the Royal African Society's inaugural Lifetime Achievement Award. She was appointed OBE for services to literature and publishing in 2006.
Books by Margaret Busby
by Margaret Busby (editor)
Interviews with Margaret Busby
Every year, the Booker Prize judges whittle a year's worth of fiction down to a shortlist of six books, each competing for the title of the best novel of the year. Margaret Busby, chair of this year's judging panel, discusses the six books that made the cut in 2020.