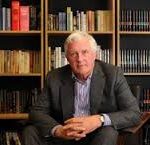 Mathew Prichard
Mathew Prichard is the grandson of Agatha Christie. He worked in the sales and marketing division of Penguin Books before joining the family copyright business; he has been Chairman of her estate since 1978. He was Chairman of the Welsh Arts Council from 1986 to 1994 and President of the National Museum of Wales from 1997 to 2002. He lives in Wales.
Interviews with Mathew Prichard
Agatha Christie wrote some 80 mysteries and short story collections, nearly all designed to entertain and delight readers with their ingenious plot twists. Here, her only grandson, Mathew Prichard, who oversaw her literary estate for many decades, recommends books that give a good sense of the range of her work, from Miss Marple to Hercule Poirot to mysteries featuring neither, and including her best short story.