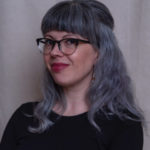 Megan Tusler
Megan Tusler is a lecturer in the MA Program in the Humanities and the English department at the University of Chicago. Her academic work is in multiethnic American literature, particularly African-American and Native American studies, archival research, critical theory, and literature and photography. Her essays and reviews appear in American Indian Quarterly, Criticism: A Quarterly for Literature and the Arts, and MELUS: Multiethnic Literature of the United States; she also co-hosts the podcast Better Read than Dead: Literature from a Left Perspective. She is a member of the Osage Nation of Oklahoma.
Interviews with Megan Tusler
"There's a lot more diversity within Native American literature than many imagine," according to Megan Tusler. The University of Chicago academic and cohost of the Better Read than Dead podcast recommends five fantastic novels which avoid "the authenticity shuffle" and demonstrate the range of literary production by American Indians.