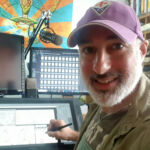 Neil Emmanuel
Neil Max Emmanuel is an illustrator who worked for 10 years on the TV show Time Team. He illustrated a children's book, History Hunters: Saxon Gold, and is currently making medieval art for a historical computer game.
Books by Neil Emmanuel
Eleanor Janega and Neil Max Emmanuel (illustrator)
The Middle Ages: A Graphic History is by Eleanor Janega, a medieval historian who teaches at a number of London universities and blogs at going-medieval.com and Neil Emmanuel, an illustrator who also worked on Time Team, Britain's longest-running historical TV show. It's a lovely breeze through a millennium of history, focusing mainly on Europe and the Near East (according to the book, the medieval period in China ended in 960, which means China became 'modern' about 600 years before Europe did). It's a lot of fun and you learn a lot in a couple of hours.
Interviews with Neil Emmanuel
Graphic histories can offer complex and layered insights into the past and are underused as a medium, argue historian Eleanor Janega and illustrator Neil Emmanuel, authors of The Middle Ages: A Graphic History. Here, they recommend five graphic histories that show the power of comics not only for telling moving stories but also transmitting difficult concepts.