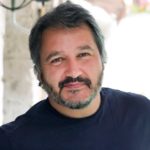 Peter Florence
Peter Florence, CBE, is the chair of judges for the 2019 Booker Prize for Fiction. Elected a Fellow of the Royal Society in 2018, he is a British festival director most notable for founding the Hay Festival with his father and mother, Norman Florence and Rhoda Florence. Since then it has become one of the most important literary festivals in the world, fuelling and stimulating debate, nurturing people's imaginations and love of books, and supporting new writers of all nationalities. Hay has been called 'a crucible for progressive thinking and action' and, in Bill Clinton's famous phrase, 'the Woodstock of the mind'.
Interviews with Peter Florence
Each year, a panel of esteemed judges reads over 100 novels to determine which titles will vie for the award of the Booker Prize for Fiction. Peter Florence, chair of the 2019 judges and founder of the famous Hay Festival, tells us why the books on this year's shortlist are gripping, enthralling must-reads.