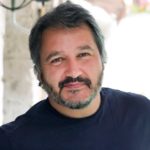 Peter Florence
Peter Florence is a British festival director, most notable for founding the Hay Festival with his father. He was educated at Ipswich School, Jesus College, Cambridge, and the University of Paris and has an MA in Modern and Medieval Literatures. He was awarded a CBE for services to literature and charity in 2018.
Interviews with Peter Florence
Comedy comes in many flavours, explains Peter Florence—chair of the judges for the Bollinger Everyman Wodehouse Prize for Comic Fiction. Here, he talks us through the varied shortlist for this year's prize: the six funniest books of 2023.
Each year, a panel of esteemed judges reads over 100 novels to determine which titles will vie for the award of the Booker Prize for Fiction. Peter Florence, chair of the 2019 judges and founder of the famous Hay Festival, tells us why the books on this year's shortlist are gripping, enthralling must-reads.