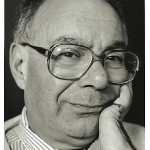 Rabbi Lionel Blue
Rabbi Blue is a British Reform rabbi, journalist and broadcaster. He was the first British rabbi publicly to declare his homosexuality. He is perhaps best known for his work with the media, most notably 'Thought for the Day' on BBC Radio 4's Today programme.
Interviews with Rabbi Lionel Blue
Rabbi Lionel Blue chooses some of his favourite books. Fans may be surprised by his choices, but one thing is key: a happy ending.