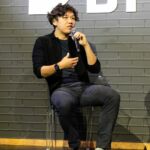 Sebastian Park
Sebastian Park is a gaming, esports, and consumer entrepreneur and investor based in NYC. He is the co-founder of the user-generated gaming studio publisher Infinite Canvas and a venture partner at BITKRAFT Ventures.
Interviews with Sebastian Park
Good decision-making is a crucial skill not only in business but in life. In this interview, entrepreneur, investor and poker player Sebastian Park advises how to make good decisions in a world of uncertainty, how to evaluate past decisions for future improvement, and how fiction can help us reflect on the choices we make.