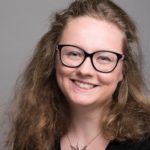 Vicki Boykis
Vicki Boykis graduated from Penn State University in Economics, before deciding to become a data scientist. She also holds an MBA from Temple University. She is now a consultant in data science for CapTech, helping companies across a broad range of industries by building and analyzing data using Python and machine learning.
Interviews with Vicki Boykis
What do we mean when we talk about 'big data', and how can be become better critical consumers of it? Data scientist Vicki Boykis recommends the best books for learning Python—a language, she says, as versatile as a Swiss Army knife—and shows that it's possible to teach yourself coding and data science.