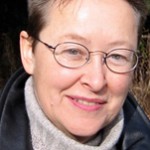 Adrienne Mayor
Adrienne Mayor is a research scholar in classics and history and philosophy of science at Stanford University. Her most recent book, Poison King: The Life and Legend of Mithradates the Great, Rome's Deadliest Enemy, was a finalist for the 2009 National Book Award.
Interviews with Adrienne Mayor
Stanford University classics scholar Adrienne Mayor says a comparison between Mithradates, a deadly enemy of the Roman Empire, and Osama bin Laden, who set his sights on the American Empire, is a tempting one.