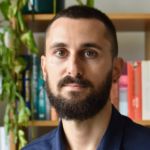 Alex Christofi
Alex Christofi is Editorial Director at Transworld and the author of the novels Let Us Be True and Glass, winner of the Betty Trask Prize for fiction. He has written for numerous publications including The Guardian, The London Magazine, New Humanist, The White Review and the Brixton Review of Books, and contributed an essay to the anthology What Doesn't Kill You: Fifteen Stories of Survival. Dostoevsky in Love is his first work of non-fiction.
Interviews with Alex Christofi
His father had clawed his way up into the minor aristocracy, but Fyodor Dostoevsky chose to live the life of an impecunious author. He was sentenced to death, but his execution was stayed and he spent years in a Siberian labour camp instead. His books are about human compassion, but he was a difficult man who had trouble with his own personal relationships. Alex Christofi, author of a brilliant new biography of Dostoevsky, one of Russia's greatest novelists, recommends five books to learn more about the man and his work—including the novel of which Tolstoy said he 'didn't know a better book in all our literature'.