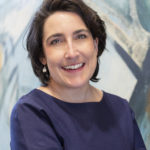 Alexandra Harris
Alexandra Harris is a writer, teacher, literary critic and cultural historian. She is a Professorial Fellow in English at the University of Birmingham and a Fellow of the Royal Society of Literature. Her work includes Romantic Moderns (2010), Weatherland: Writers and Artists Under English Skies (2015), Time and Place (2019) and many essays on books, paintings, people and places. She has been a winner of the Guardian First Book Award, a Somerset Maugham Award and a Philip Leverhulme Prize. She reviews for the Guardian and has presented a range of arts programmes for BBC radio.
Books by Alexandra Harris
Interviews with Alexandra Harris
Each year, the judges for the Forward Prize select a shortlist of the best new poetry books. In 2020, they chose five collections ranging in tone from epic love songs to domestic surrealism. Alexandra Harris, chair of the judges, tells us what they admired about each book.
Modernism is about form more than content, says literary scholar and critic Alexandra Harris, author of Romantic Moderns: English Writers, Artists and the Imagination from Virginia Woolf to John Piper. She tells us about the history of the modernist movement, and picks five books that exemplify or explain it.
Books by Alexandra Harris